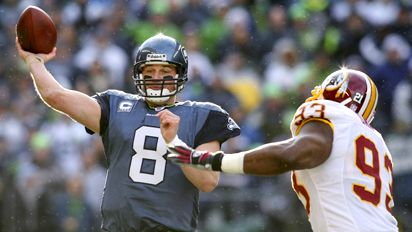 I haven't posted in a while, so happy New Year to all of my fellow

bloggers

and those wonderful folks who peek in on my ramblings from time to time. I hope you all have a great year and I truly wish you the very best!
Back to uh, uh, oh yeah - Damn!
Everybody that knows me, knows that I'm a Redskins fan. I love football and I love my burgundy and gold.
As I type this, the curtain has closed on the 2007 season for us. Seattle just beat us 35 to 14. Ah, there is the wonderful number 21 yet again. The same number worn by our fallen favorite son, Sean Taylor. Damn.
Actually, I am far from disappointed in my

Wildcard

Skins. We lost a lot of games this year that we should have won; We missed a lot of catches we should have caught; We threw a lot of passes we shouldn't have; We called a lot of plays that we should have thought through. But, when all was said and done, we ended up where we wanted to be all along - in the post season. Damn.
We flew to Seattle and we got beat by a better team. It was their day and it was in front of their fans. So, these things happen. We didn't play bad, we just didn't play as good as we should have. I would love to be able to point a finger at someone. I'd love to blame our veteran rookie quarterback Todd Collins, but he has had an impressive 5 games. I'd love to blame Clinton

Portis

, but he's put down over 1200 yards this year, impressive. I'd love to blame the defense, but hell - I love all of those guys!!! Damn.
So, I'll just let my images of beating Dallas in round two of the playoffs fade from view. Training camp starts in seven months and I'll just make due with the NFL network until then.
Hold your heads up fellow Skins fans, the loyal followers of 20 other teams were green with envy at us before our game today and even now, we've had quite a season - lets be proud!